Indian eVisa Photo Requirements
If you're applying for an Indian visa, you'll need to submit a passport-style photograph of your face. But don't worry, taking the perfect photograph is easier than you think! Here are some tips to help you meet the Indian Visa Photo Requirements:
Use your phone: You don't need to visit a professional photographer to get your photograph clicked. You can simply use your phone to take a photo that meets the Indian Visa Photo Requirements.
No scanned photos: Do not scan or use the photograph from your current passport. You'll need to upload a separate passport-style photograph of your face.
Follow the guidelines: Make sure your photo meets the guidelines set by the Indian government for the e-Visa application. For example, your face should be centered, with a plain white background and no shadows or glare.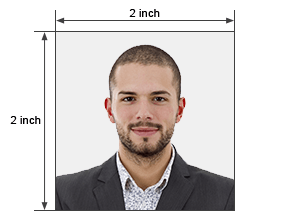 Passport-style photo
Your photo needs to be passport-style and clearly identify you with the entirety of your face and its features, hair, and any marks on the skin visible in the photo.
Head coverings due to religious reasons are allowed as long as they don't hide your face, chin, and hairline.
Ears, necks, and shoulders should be visible except in the case of head coverings worn for religious reasons.
Do not wear any accessories such as hats or sunshades in the photo.
Size and resolution
The photo needs to be at least 350 pixels by 350 pixels in height and width, with your face covering 50-60% of the photo.
The default India Visa passport photo size is 1 Mb or 1 Megabyte, so make sure your photo is under this limit.
The face photograph should be taken in the Portrait mode rather than in the Landscape mode.
Background and clothing
The background should be plain and simple, and your clothes should also be plain without any complex patterns or bold colors.
The photo should not have anyone else in the background.
Other considerations
Your photo should be clear and not blurry, with no dark shadows or colored tones.
The view of your face should be the frontal view, not the side view or profile view, and your eyes should be completely open in the photo, with your mouth closed.
Your hair should be tucked back and all features of your face should be clearly visible.
The soft copy of this face photograph that you upload should be a JPG, PNG, or PDF file.
By following these requirements, you should be able to easily upload a suitable photo for your India Visa application. If you need any help or further clarification, don't hesitate to contact the India e Visa Help Desk.