Best Places In Delhi To Visit In A Day
As the capital of India and home to the Indira Gandhi International Airport, Delhi is a major place for foreign tourists to visit. If you only have a day to spend in the city, don't worry! This guide will help you make the most of your time in Delhi with tips on where to visit, where to eat, and where to stay.
Places to visit
Red Fort
Timings and days for visiting- 9:30 AM- 4:30 PM, Tuesday- Saturday
The Red Fort, built by the Mughal king Shah Jahan in 1648. It is India's most famous and significant fort. Constructed in the Mughal architectural style, the massive red sandstone structure boasts stunning gardens, balconies, and entertainment halls. It is believed that during the Mughal reign, the fort was adorned with diamonds and other precious stones. However, with the decline of the Mughal empire, the lavish decor became unsustainable. Today, the Red Fort is an important historical site and serves as a venue for the Prime Minister's annual Independence Day address to the nation.
Qutub Minar
Timings and days for visiting- 7:00 AM- 5:00 PM, Open all days
The Qutub Minar is a towering structure standing at 240 feet. It was constructed during the reign of Qutub-ud-din-Aibak. With balconies on every level, the monument is made of red sandstone and marble and showcases the Indo-Islamic architectural style. It is surrounded by a park that contains several other significant monuments built during the same period. This impressive structure, also known as the Victory Tower, was erected to celebrate Mohammad Ghori's triumph over the Rajput king Prithviraj Chauhan.
Akshardham
The Akshardham temple was constructed by BAPS in 2005. It is dedicated to Swami Narayan and is a must-visit destination in Delhi. The temple boasts several attractions, including the famous Hall of Values consisting of 15 three-dimensional halls, an IMAX cinema showcasing the life of Swami Narayan, a captivating boat ride depicting India's ancient and modern history, and a stunning light and sound show. The temple itself is made of marble and is surrounded by a beautiful structure built of red sandstone. The temple's design was inspired by the Gandhinagar temple, and Swamy's visit to Disneyland inspired many of the technological marvels in the temple.
India Gate
The India Gate is a glorious sandstone arch constructed by the British in the 20th century. The monument marks the sacrifice of 70,000 Indian soldiers who lost their lives in World War I. Originally named Kingsway, it was designed by Sir Edward Lutyens. After the Bangladesh war, the monument was renamed Amar Jawan Jyoti and now stands as India's memorial for the fallen soldiers.
Lotus Temple
Timings and days for visiting- 9:30 AM- 5:30 PM, Tuesday- Saturday(summers)
The Lotus Temple, shaped like a white lotus. It was built in 1986 and is a sacred place for the followers of the Bahai faith. Visitors can experience inner peace and spirituality through meditation and prayer. The temple's serene environment is complemented by its beautiful gardens and nine reflective pools.
Humayun's Tomb
Bega Begum, the wife of Mughal king Humayun, commissioned the construction of this magnificent red sandstone tomb, now a UNESCO world heritage site. The tomb features stunning Persian architectural elements that served as a starting point for developing the great Mughal architecture. Beyond being the final resting place of King Humayun, the monument is a testament to the growing political power of the Mughal Empire.
Places You could go shopping
Sarojini Market
Timings and days for visiting- 10:00 AM- 9:00 PM, Tuesday- Saturday
Sarojini Nagar Market is a must-visit place for budget-friendly shopping in Delhi. It's a bustling market, but avoid visiting on weekends as it gets crowded. From trendy clothes, bags, and shoes to books and handicrafts, you can find everything here. Students flock to this market to expand their wardrobe without breaking the bank.
Chandni Chowk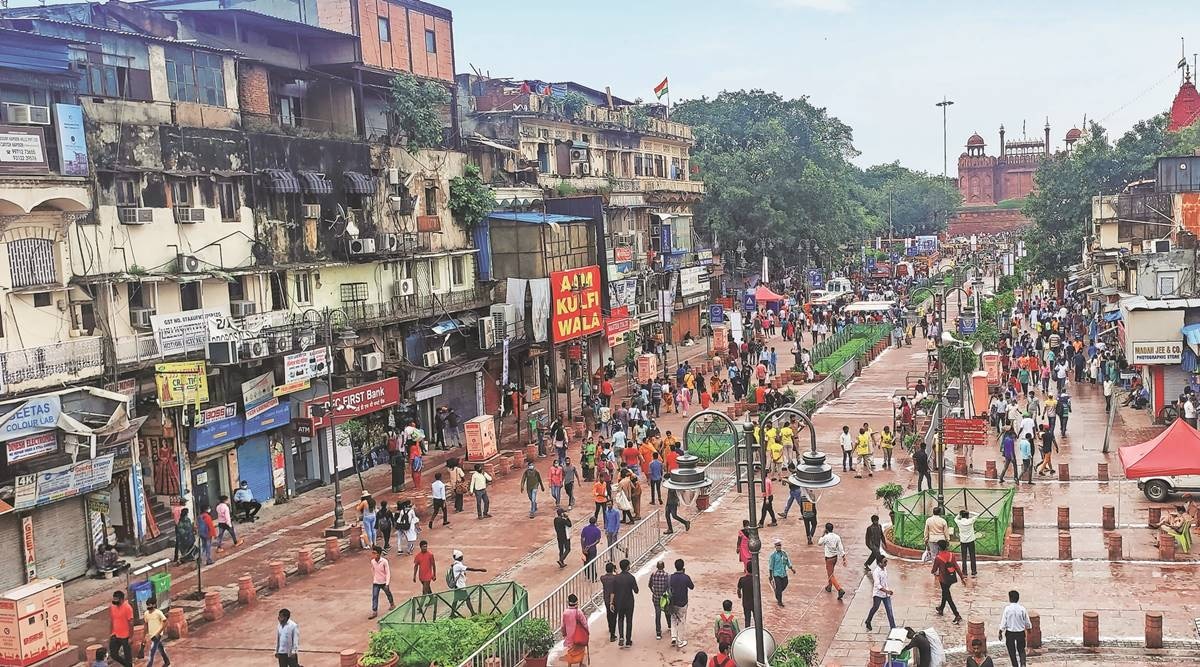 Timings and days for visiting- 11:00 AM- 8:00 PM, Tuesday- Saturday
Chandni Chowk is one of the most famous markets in Delhi, known not only in the city but throughout India. It has been featured in many Bollywood movies, including Kabhi Khushi Kabhi Ghum, The Sky is Pink, Delhi-6, and Rajma Chawal. This historic and bustling market is divided into sections for easy shopping, with each section offering a wide range of goods such as clothes, books, handicrafts, fabrics, and electronics. Chandni Chowk is also known for its bridal couture, making it a popular shopping destination for weddings. However, it is best to avoid the market on Saturdays due to the large crowds.
Khan Market
Timings and days for visiting- 10:00 AM- 11:00 PM, Monday- Saturday
Khan Market is a popular and upscale shopping destination in Delhi that offers a unique blend of luxurious designer brands and affordable street vendors. From fashionable clothing, stylish shoes, and trendy bags to exquisite crockery and stunning handicrafts, this market has everything you need for a memorable shopping experience. Don't miss out on the impressive sculptures that make for great souvenirs.
Delhi Haat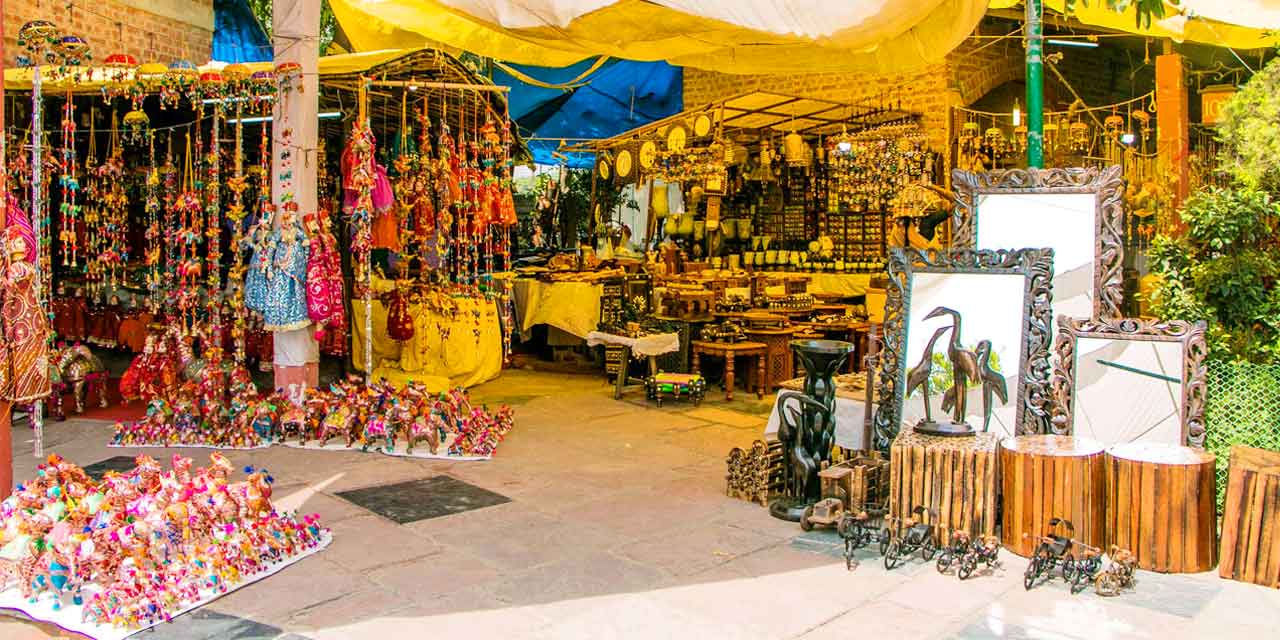 Timings and days for visiting- 10:00 AM- 11:00 PM, Monday- Saturday
Dilli Haat is a must-visit market in Delhi, especially during winter when the vibrant colours and picturesque scenery come alive. With a rustic and rural charm, this market offers a unique experience of Indian culture and tradition. Explore the diverse handicrafts, jewellery, paintings, and embroidery works while indulging in delicious cuisines from different Indian states at various food stalls. This market truly represents the best of Indian handicrafts, art, and cuisine, all under one roof!
Places to eat
Delhi, being the capital city, is diversified and united by different cultures. You can find everything from foreign dishes to street food.
In addition to local street food, Delhi also has many cultural centres representing various states of India and other countries, serving authentic and delicious food. The markets in Delhi, such as Chandni Chowk, Khan Market, Connaught Place, Lajpat Nagar, Greater Kailash, and many others, offer a plethora of options for foodies to shop and indulge in the innumerable eateries and cafes.
Places to stay
New Delhi offers a wide range of accommodation options from budget-friendly hostels and PGs to luxurious and grand hotels.
The Lodhi is a popular 5-star hotel located in Central Delhi and is conveniently accessible to major tourist attractions.
The Oberoi is situated in close proximity to many monuments in Delhi and is also near the famous Khan Market.
The Taj Mahal Hotel is a great luxury hotel option that's located near India Gate and the Rashtrapati Bhavan.